CASA

What is CASA?
A Court Appointed Special Advocate (CASA) is a trained community volunteer who is appointed by a judge to advocate for the best interests of an abused or neglected child involved in juvenile court proceedings.
CASA volunteers are everyday citizens to assure that children under 18 years of age are placed in safe, permanent homes. No special skills are required. A CASA volunteer protects a child's right to be safe, to be treated with dignity and respect, and to learn and grow in the safe embrace of a loving family.
Sullivan County CASA needs volunteers. The number of children in need of a CASA continues to rise in our community, and we want to be sure that we have volunteers to meet the needs of the cases we have in Sullivan County.
CASA volunteers advocate for a timely permanency plan and make recommendations regarding the appropriate rehabilitative and protective services to the court.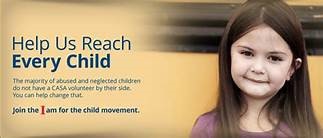 More Information
Find content and services related to this page.